The Delance watch, time piece of excellence,
created by women for women.
– Evidence of their multiple talents –
Only the finest materials, highest quality components, most experienced craftwomen have been chosen to produce this powerful feminine masterpiece.
THE WATCH MOVEMENTS
The Delance watch is equipped with the reliable Swiss made ETA 976.001 quartz movement.
By special order, there is the possibility to replace this with a mechanical Piguet 8.10 movement, which can be engraved and carved (three to six months delivery time).
THE WATCHCASE
Uniquely curved, diamond-shape, carved from a single block of 18 carat gold or stainless steel, it requires 41 separate operations to reach the highest degree of perfection demanded by Delance for this Swiss luxury watch. Secured with a scratch-resistant cambered sapphire crystal and screw-in case back, this perfect watch is waterproof to 30 meters..
Jewelery, in 2 sizes (diameter 26 mm or 23 mm), in 18 carat gold 2N or in steel 316 LS, it is equipped with a crown in gold or steel.
THE CUSTOMIZATION
A DELANCE is recognizable at a glance. It comes in two basic sizes, either gold or steel, with a choice of 20 dials, 20 cabochons, a multitude of bracelets, and a large choice of precious stones. The combinations are endless. The cabochons and bracelets are very easily interchangeable.
THE CABOCHON
A personalized touch of color.
Discreet bright spot on the watch at 6 o'clock, an interchangeable pyramid in gold or steel, can be set with your favorite stone. Or, it can be personalized with a special stone or small engraving. It is your silent and faithful companion.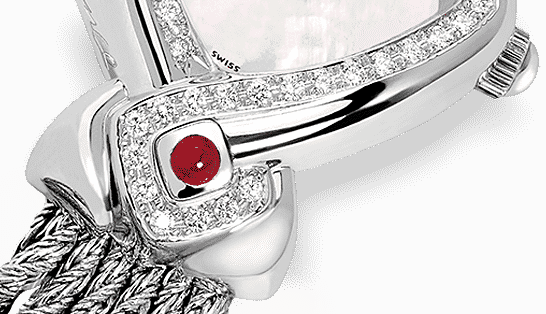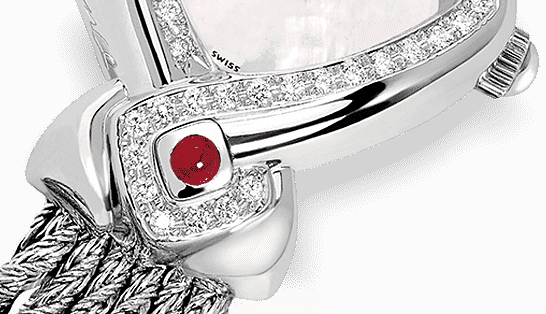 100% SWISS MADE
The Delance is a luxury watch for women, 100% Swiss made, according to stringent quality requirements applied to top of the line products.
Each step of the manufacturing process is given very special care and is followed by a thorough verification.
It has a 5-year warranty.