The Delance watch, time piece of excellence,
created by women for women.
– Evidence of their multiple talents –
Only the finest materials, highest quality components, most experienced craftwomen have been chosen to produce this powerful feminine masterpiece.
THE WATCH MOVEMENTS
The Delance watch is equipped with the reliable Swiss made ETA 976.001 quartz movement.
By special order, there is the possibility to replace this with a mechanical Piguet 8.10 movement, which can be engraved and carved (three to six months delivery time).
THE WATCHCASE
Uniquely curved, diamond-shape, carved from a single block of 18 carat gold or stainless steel, it requires 41 separate operations to reach the highest degree of perfection demanded by Delance for this Swiss luxury watch. Secured with a scratch-resistant cambered sapphire crystal and screw-in case back, this perfect watch is waterproof to 30 meters..
Jewelery, in 2 sizes (diameter 26 mm or 23 mm), in 18 carat gold 2N or in steel 316 LS, it is equipped with a crown in gold or steel.
THE CUSTOMIZATION
A DELANCE is recognizable at a glance. It comes in two basic sizes, either gold or steel, with a choice of 20 dials, 20 cabochons, a multitude of bracelets, and a large choice of precious stones. The combinations are endless. The cabochons and bracelets are very easily interchangeable.
THE CABOCHON
A personalized touch of color.
Discreet bright spot on the watch at 6 o'clock, an interchangeable pyramid in gold or steel, can be set with your favorite stone. Or, it can be personalized with a special stone or small engraving. It is your silent and faithful companion.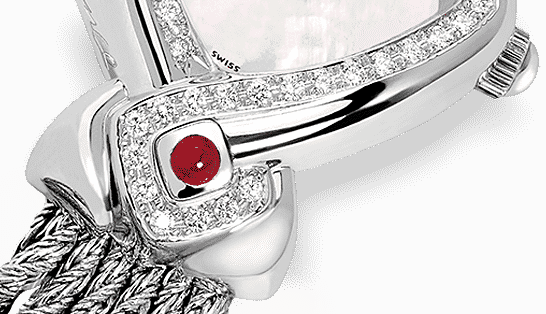 THE WRISTBAND
Artistic signature of the DELANCE watch, the "Cascade" wristband is a true masterpiece of craftsmanship. It is made of gold cords; smooth and flexible, it comes alive and adopts the pace of the woman wearing it.
Each piece is crafted one at a time by a master jeweler and takes more than 10 hours of accurate and thorough work, in order to attain perfection in every detail. The cord is made of very thin gold threads, twisted by hand, then diamond-polished, to allow the light to sparkle each time it hits one of the numerous surfaces.
There are 11 cords on the smaller model and 13 on the larger one. The cords are custom cut to the desired length, then assembled and soldered with precision in a two layer process. The bottom layer contains an even number of cords. In the second layer, an odd number of slightly longer cords are positioned in between the first layer cords. The extra length provides fluidity and movement. Finished with a choice of safety clasps, including a reproduction of the cord design on its cover, it is the ultimate refinement: the Haute-Couture of jewelry.
Very few jewelers nowadays still possess the know-how to accomplish this level of artistic work. This makes the Cascade wristband a rare and precious masterpiece that connoisseurs will appreciate for its true value.
Comfortable to wear, in cambered gold, steel, or bi-color gold and steel links. Choice of eight stone-set models, or available as a custom request to match the case. Easily adjustable with hidden screws on one side, with links from 1 cm to 3 cm and foldover safety clasp.
A large choice of materials and colors: alligator, lizard, calf, satin, shimmering, with soft, supple, moisture-resistant calf lining. Gold-plated or steel clasp (gold clasp upon request). Delance only deals with leather suppliers who are signatories of the Convention on International Trade in Endangered Species of Wild Fauna and Flora (CITES).
100% SWISS MADE
The Delance is a luxury watch for women, 100% Swiss made, according to stringent quality requirements applied to top of the line products.
Each step of the manufacturing process is given very special care and is followed by a thorough verification.
It has a 5-year warranty.